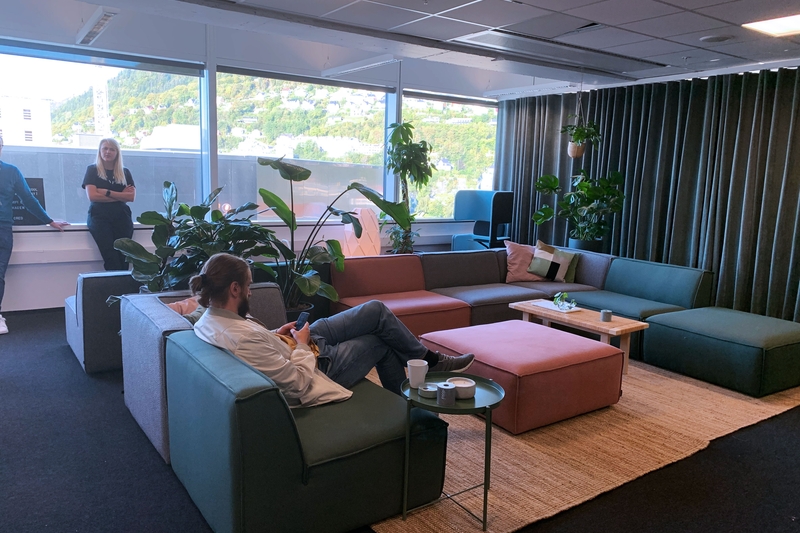 Fintech Hub
- a melting pot of innovation
.
Located in Media City Bergen, one of the hot spots of innovation in Norway, the Fintech Hub is a place for innovators, changemakers and entrepreneurs and a home for the exploration of extraordinary ideas.

The Fintech Hub is where we make our vision into reality by empowering a thriving fintech ecosystem.

The Community
Our community is a cross-section of founders, investors and industry leaders who are passionate about sharing their drive, compassion, and readiness to break the mold. We bring together the fintech community to facilitate and create meaningful connections and collaboration on projects shaping our future. Together with our community partner VIS we're creating the ideal conditions to prosper as a Norwegian fintech company.
The pay-it-forward vibe is a big part of our community and culture. Our one ask is that those who walk through our doors are ready to support one another in challenging the status quo.
The Space
Join our unique and stimulating workplace located in Media City Bergen with panoramic views of the city centre. Our office space provides the stage for a diverse and bustling fintech community to gather and meet. In the Fintech Hub you'll get access to the infrastructure you need to grow your business, and we can also offer flexible seating as a "home away from home" if you need a place to think outside the box.
Our social zone can be re-purposed into a workshop area or a venue for smaller events. Contact us if you have suggestions for activities that can benefit our cluster members.
The Cluster
To be able to join us in the Hub you'll need to be a cluster member. Becoming a member of NCE Finance Innovation has lots of benefits for you and your company, also outside of the Hub. We have the largest network in the Norwegian Fintech industry, we can support you in creating joint collaboration projects within the cluster, help you showcase your business to the right people, and much more.
Interested in joining the family? As of today we have around 90 members from different parts of the fintech ecosystem. Let's grab a coffee and talk more. Get in touch.
Stay up to date
/
Join our newsletter to stay updated on the latest FinTech news and upcoming events.