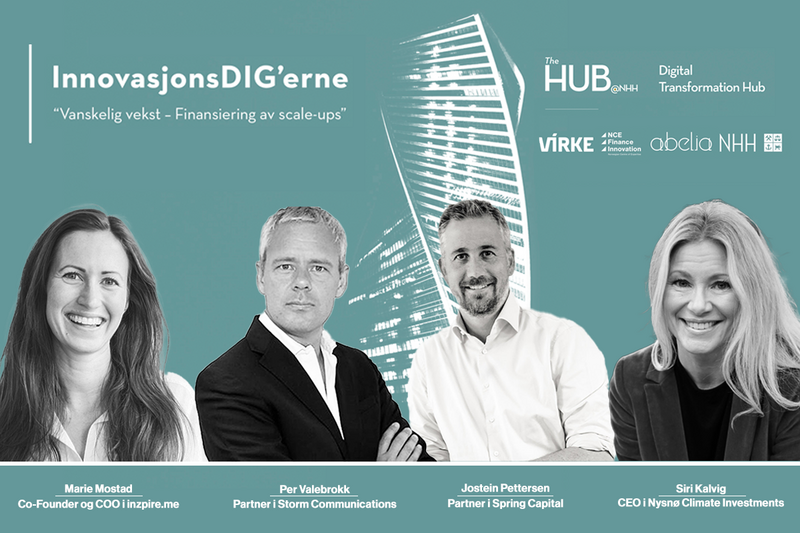 InnovasjonsDIG'erne - vanskelig vekst: finansiering av scale-ups
16. February, 10:00 - 10:45
Online
Gjennom formidlingsarenaen The HUB@NHH diskuterer vi viktige problemstillinger for start-ups og små mellomstore bedrifter. Kompetansen fra hele Digital Innovation for Growth (DIG) universet - det beste i næringslivet og akademia – stiller opp.

Tilgang kapital og kompetanse er to hoved-hindringer for å skape vekst i det nye næringslivet i Norge, og med det fremtidens arbeidsplasser. Hva bør gjøres for å gi vekstselskapene større muligheter for å lykkes?

Vi diskuterer disse problemstillingene i første sending av InnovasjonsDIGerne med:

Marie Mostad, Co-founder og COO i Inspire.me
Jostein Pettersen, Partner i Spring Capital
Siri Kalvig, CEO i Nysnø Climate Investments
Samtalen ledes av Per Valebrokk, Partner i Storm Communications.

InnovasjonsDIGerne er en seminarrekke utviklet av Abelia, Virke, NCE Finance Innovation og Norges Handelshøyskole som er partnere av forskningssenteret DIG.

Per Valebrokk vil lede oss gjennom fire sendinger i løpet av året som retter seg mot gründere og SMBer. Første sending leveres av Virke.



Om DIG:
Digital Innovation for Sustainable Growth (DIG) er et forskningssenter på NHH. Ledende virksomheter og forskningsmiljøer skal sammen bidra til digital omstilling og innovasjon.

I samarbeid mellom næringsliv og samarbeidspartnere skal forskerne ved DIG finne ut av:
Hvordan implementere digitale innovasjoner og oppnå større kommersiell suksess?
Hvordan innovere selskapers forretningsmodell og hva er best for hvem?
Hvordan kan vi forstå og navigere i digitale økosystemer?
Hvordan forbereder vi oss på transformasjon og radikale endringer?
Forskningssenteret består av følgende partnere:

Coop, Gjensidige, Telenor, TietoEVRY, Bekk, BKK, Posten, Skatteetaten, Abelia, NCE Finance Innovation, Virke, NHH, NTNU, Norwegian Open AI Lab, Sintef, SNF og Universitetet i Oslo.

Les mer om DIG her.
Interested?
Register and join the event!
Sign up