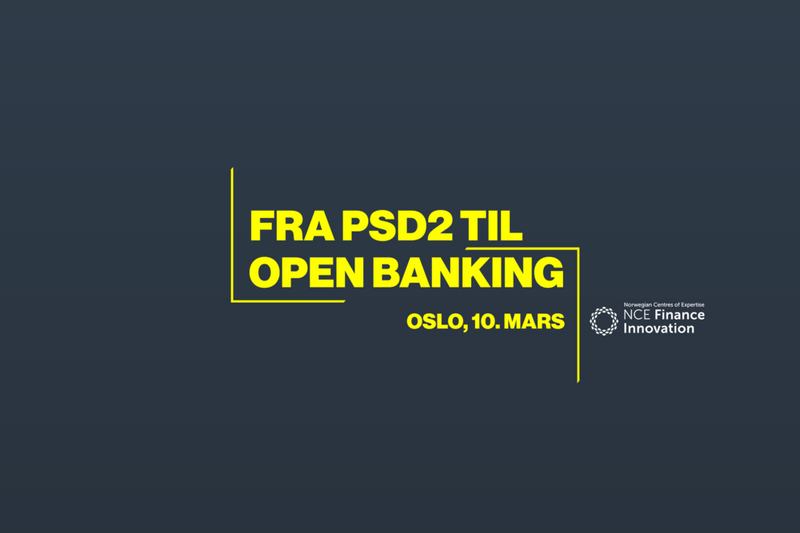 Postponed: Fra PSD2 til Open Banking
10. March, 16:30 - 18:30
PwC Oslo
Members only
Due to the Covid-19 situation, the organizers, PwC and NCE Finance Innovation has decided to postpone this event.



PSD2 og Open Banking har vært blant de hotteste temaene i finansbransjen de siste årene. Hvor står bransjen et halvt år etter at PSD2-regelverket trådde i full kraft? Hva har innføringen betydd for privatpersoner og bedrifter? Og hvordan vil det påvirke fremtidens finansbransje, kundene og andre bransjer fremover? Vil vi se norsk næringsliv gå inn i en æra der datadeling og samarbeid for bedre kundetjenester blir en standard?
NCE Finance Innovation har gleden av å invitere til frokostseminar hvor sentrale aktører vil dele sine erfaringer og gi sitt syn på disse og andre aktuelle spørsmål. Det blir lett servering ved registrering og tid til nettverking etter arrangementet.


PS: Dette er et gratis arrangement og åpent for alle. Det er begrenset med plasser, så husk å meld deg på!
Hvem passer seminaret for? Alle som er nysgjerrige på hva Open Banking kan bety for egen eller andres bransjer i tiden som kommer.
Arrangeres av: NCE Finance Innovation

PROGRAM
08.00-08.30: Lett servering og registrering
08.30-08.40: Velkommen v/ Kristian Enger, konserndirektør i Itera/adm. dir. i Cicero Consulting
Et ½ år med PSD2
08.40-08.55: Georg Olav Ramstad, Head of Open Banking Sales and Business Development i Nets
08.55-09.05: Advokat Daniel Næsse i Advokatfirmaet PwC
09.05-09.15: Kristine Ursfjord, Partneransvarlig PM Kundefront i SpareBank 1 Utvikling
Hvordan har innføringen av PSD2 truffet privatkunder og bedrifter?
09.15-09.30: Stefan Astroza, analysesjef i Cicero Consulting
09.30-09.40: Thor Kristian Seth, daglig leder i ZData
09.40-09.50: Ulf Bjørnvold, produktdirektør i Visma
Forventet utvikling på kort til mellomlang sikt
09.50-10.05: Victoria Terjesen, Head of Fintech i Accenture
10.05-10.15: Geir Atle Bore, CEO & Founder i FundingPartner
10.15-10.25: Nicholas Leidenfelt, Business Developer i Finn (personlig økonomi)
Oppsummering
10.25-10.35: Lars Erik Fjørtoft, partner i PwC
10.35-11.00: Mingling